You may ask why use a professional pet sitter? 
                  Because once you experience professional pet care in your home,                          you'll never worry about  being away from your pet again.
       We care for your loved ones as if they were part of our own family.
       Let one of our caring pet sitters come to your home and take care of your dog, cat, birds, fishes, reptiles and so much more!
           Whatever you need, we at Luckipups will do our very best to accommodate your needs. Give us a call today!
       Our daily visit fees are per visit and tailored to your specific needs.
                  We are located in Kingston N.Y. and service the following areas:
     Kingston/Lake Katrine/Port Ewen/Hurley
WE OFFER 
Walking
Playdates
Feeding
Vet appointments
Giving Medications
Training advice
Tuck In Service
Hospice care
Bathing
Thinking about a vacation or just a weekend getaway, and you can't bring your loved ones? That's where we can help.
We will be happy to visit them multiple times throughout the day, including   tuck- in service.
"Your loved ones will stay in the comfort of their own home"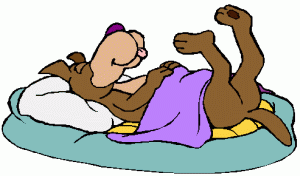 TUCK IN SERVICE
You may be wondering just what is "Tuck In Service".  Before I started Luckipups, I thought about what I would want for my own pups if I was away and an end of day bathroom break, with snuggles, cuddles and one last snack before bed was very important to me. So that is what we offer at the end of the day. This "Special Service" is a little shorter visit than our regular visits, however, the benefit is your pups will be comfortable overnight and you will have peace of mind that your pups are safe and sound until we return in the morning.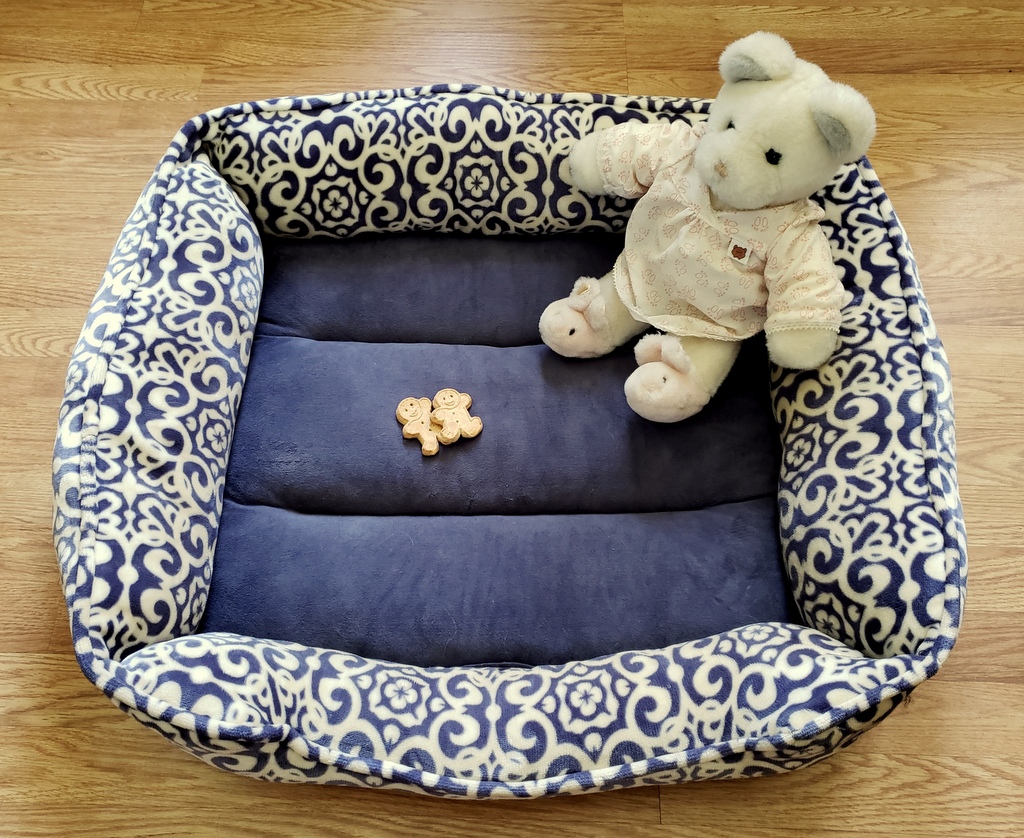 CHICKEN CARE
We can feed and water your chickens, clean up their coops and collect their eggs for you. This little chicken is my Henrietta; she actually adopted me. She kept getting out of her coop and coming to my house. So her family let us adopt her and she is now part of our family, hanging out  in our yard with our three dogs.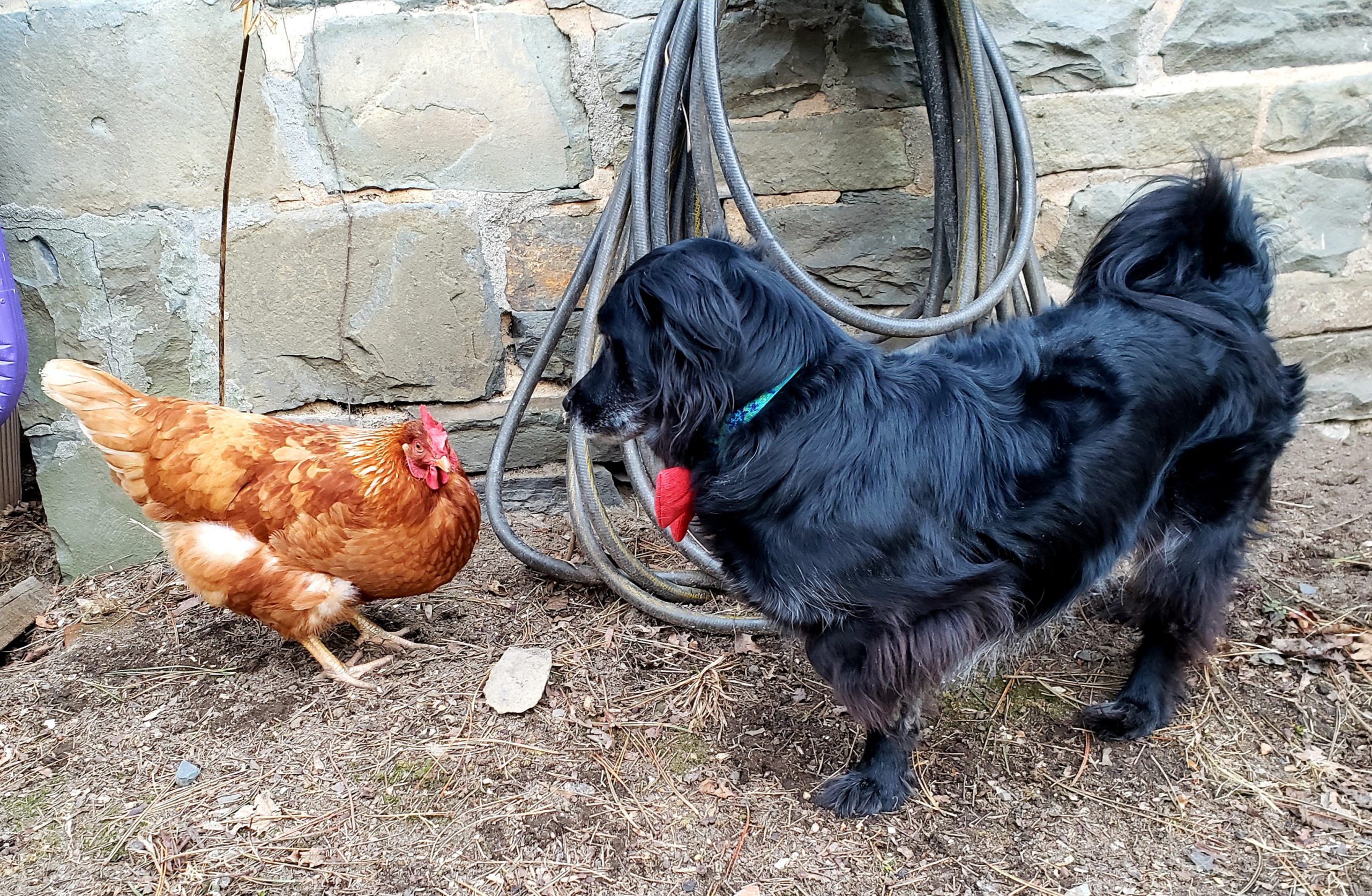 LUCKI-RUBADUBDUB
We offer bathing and trimming of your pups coat, in the comfort of their own home. We do specialize in helping seniors who need a bath. We understand that they need the utmost care when being handled.  Give us a call and let us know what your needs are, so we can determine how we can help.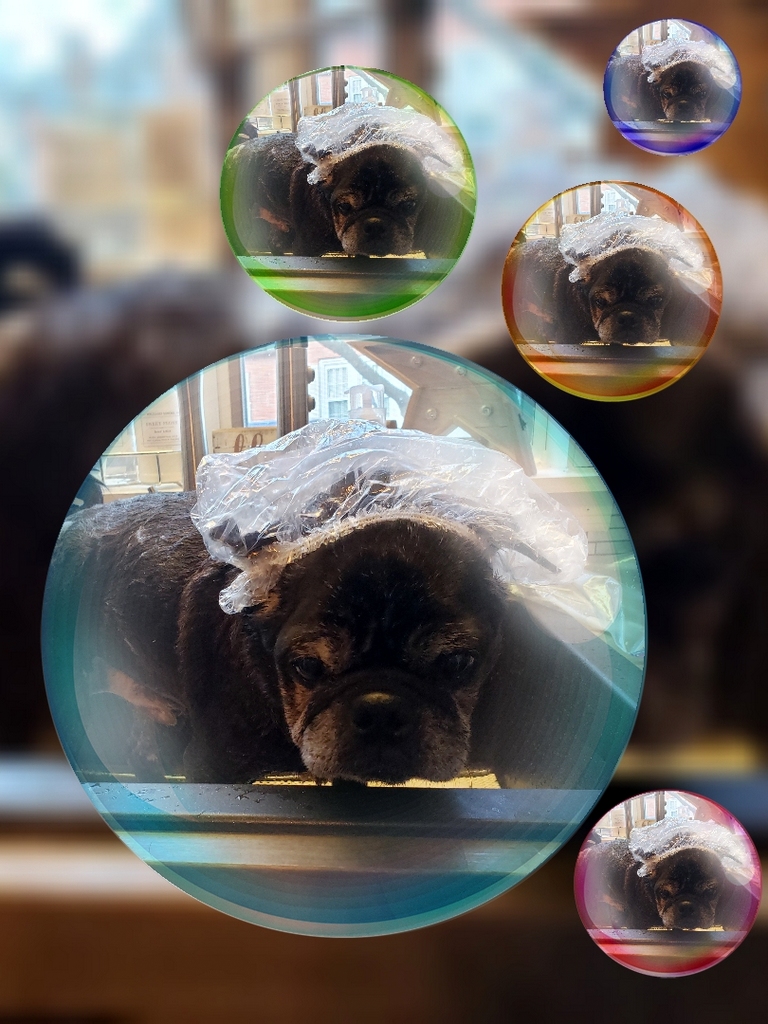 HOSPICE CARE
I've always found it an honor and a blessing, to be asked to stay with someone's pup, when they can't be home alone. This way, when the family has to leave the house to run errands or head to an appointment, it gives them piece of mind, knowing we're there comforting their loved one, until they return.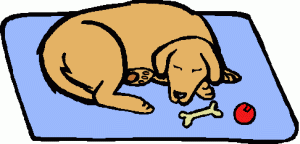 LUCKIPUPS LIMOUSINE SERVICE
We have clients who do board their 'furry' kids. Sometimes they can't get home in time to pick them up and  they have to spend another night away from them. We can pick them up for you and have them waiting for your return.
We also can help if you need your loved one either dropped off at the vet or picked up.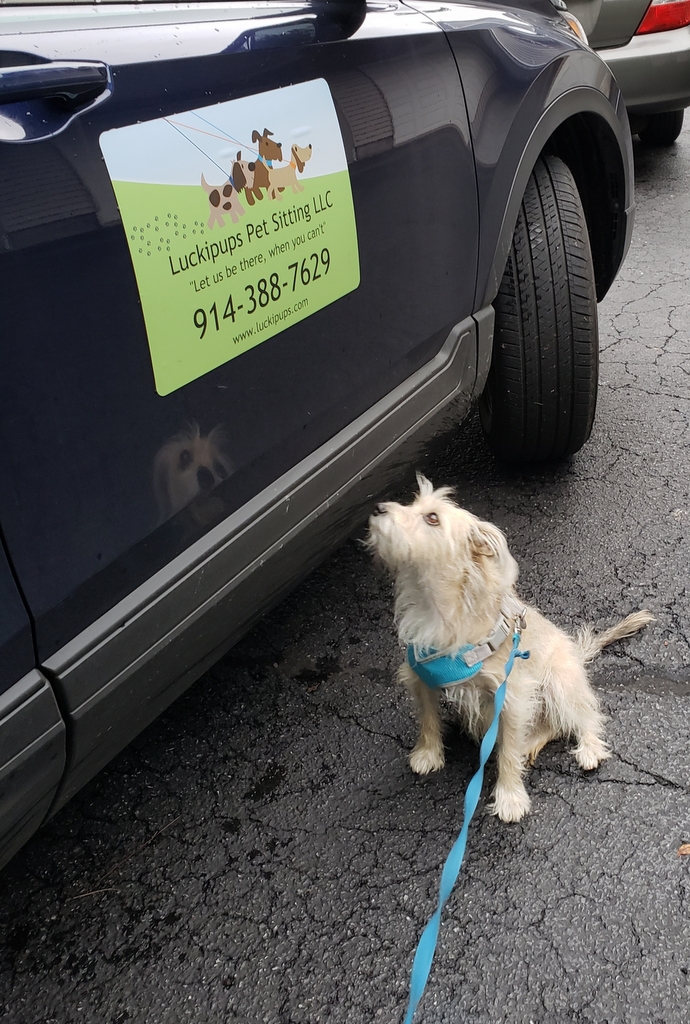 TUCKER'S TOURS
We had a wonderful three legged dog named Tucker….he was the love of my life. At the end of his life we got him a cart, so we could take him around town with us. Walking had gotten harder for him and we felt the mental stimulation would be wonderful for him. He LOVED people and he always attracted a crowd. My Tucker passed away on 9/14/16 and his cart now sits closed up in a corner of our home. So I thought I would offer a service for people whose pups either can't walk far or can't walk at all anymore, to be taken for a ride uptown. Tucky's favorite time was when we went to the Farmers Market and maybe your pup would love that too. Just give me a call to talk about it.  This was my happy boy in his cart.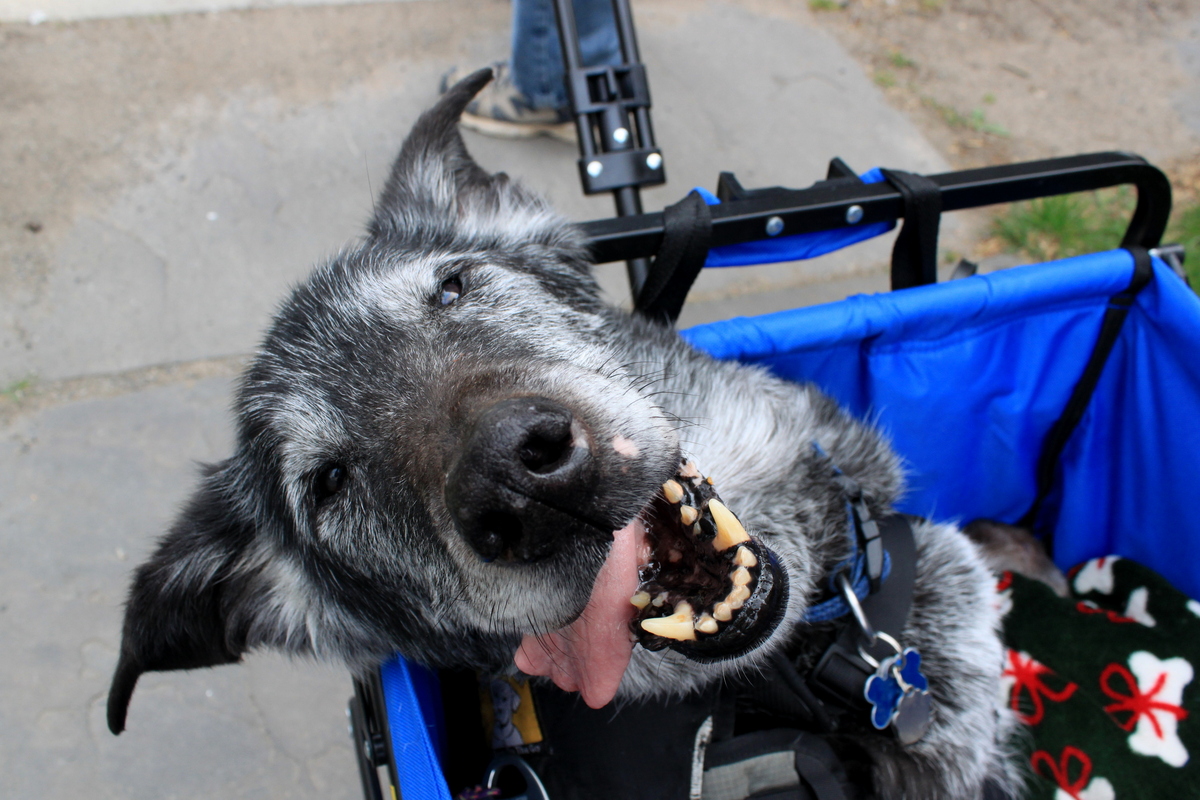 OVERNIGHTS (Limited Availability)
Boarding can be stressful for a lot of dogs, especially for rescues.  So what we offer is to for your pups to be able to stay in the comfort of their own home. We do visits throughout the day, take them out for walks and give them their meals. At the end of the day, we stay over and we all pile into bed together to sleep.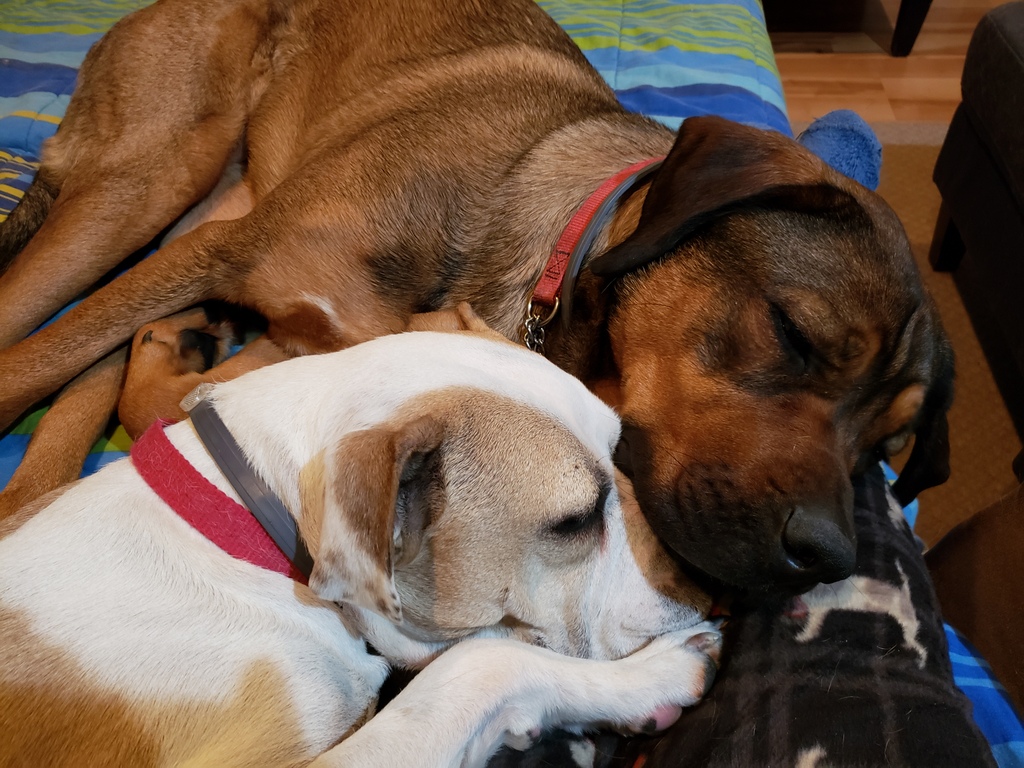 Contact us for a free meet and greet and you will see the benefits of hiring a Professional Pet Sitter. We give our clients peace of mind while they are away.
Go to our 'CONTACT' page for information on how to reach us. Be sure and check out 'OUR STORY' to learn about the wonderful dogs that share our lives.
Kindly,
Linda McLuckie
Insured and Bonded
Certified in Pet First Aid
Member of Pet Sitters International